A quick personal message from
Jeff Gibbard
Thank you!
I'm honored and excited for the opportunity to serve your audience at your next event.
I created this page to help in your selection process. This page includes information aboout my various talks and workshops, previous engagements, and ways we might work together.
Whether your event is live and in-person, remote, or pre-recorded, I am ready to make hiring me one of your best decisions of the year.
I make it easy to work with me and I'm committed to impacting every audience I have the chance to speak to.
Have a look around and I'll be ready to talk when you are.
The FOUR BIGGEST reasons
people LOVE working with Jeff
2022
Keynotes
Inspiring talks, important topics, and
captivating experiences designed for the big stage.
2022
Workshops
Actionable material designed to help people unlock their full potential.
Fill out this short form and I'll get back to you ASAP.
(Typically within 48 hours)
"*" indicates required fields
My About Details
About Jeff Gibbard
You might know me from Linkedin as "the World's Most Handsome Strategist and Professional Speaker."

You might also know me by my other title: Superhero

Jeff Gibbard is the author of The Lovable Leader, a book about building great teams with trust, respect and kindness. He's also strategist, consultant, coach, speaker, podcaster, blogger, and more.

Jeff is on a mission to make the world kinder, safer and more equitable. He's committed to living a purpose-driven life, helping people to unlock their full potential, being a heroic and lovable leader, and becoming an unstoppable catalyst for change.
Some people wear their Superhero costume under their suit.
I wear a suit under my Superhero costume.
Superhero - Speaker - Strategist
become the leader you were meant to be
Lovable Leadership centers on the aspects of leadership that require emotional intelligence, empathy, humility, compassion, and trust. Amid all other externalities, these are the things we can control—how we relate to one another.
Frequently Asked Questions
Will jeff wear a shirt & tie?
How long are the keynotes
Usually around 50 minutes…just enough time for a 60-minute slot without taking up the next speaker's time.
Are ALL Talks available in-person and virtually?
will the slides be made available?
Generally no…but, we can talk about it.
can we pre-order books for our audience?
Yes, discounted rates are available for bulk purchases. I also love engaging with audiences and doing book signings.
I'm a freakin' superhero! The better question is "why wouldn't you hire me?"
RECENT
Podcast/Media Appearances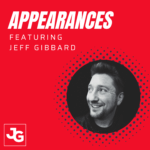 Making a Positive Impact with Jeff Gibbard | Deliberate Leaders Podcast with Allison Dunn

Nov 29, 2022 • 00:26:12

26 min Original Episode: https://www.deliberatedirections.com/making-a-positive-impact-with-jeff-gibbard/ This episode is being republished for archival purposes. Copyright is held by the podcast producer. If you are the copyright holder and would like this archival copy removed, please contact me.

How to Become Superhuman | Modern Leadership with Jake Carlson

Oct 27, 2022 • 00:36:36

38 min Original Episode: https://jakeacarlson.com/300-how-to-become-superhuman-by-jeff-gibbard/ This episode is being republished for archival purposes. Copyright is held by the podcast producer. If you are the copyright holder and would like this archival copy removed, please contact me.

Jeff Gibbard: What Makes a Lovable Leader | The Drop In CEO

Oct 14, 2022 • 00:37:40

38 min Original Episode: https://omny.fm/shows/drop-in-ceo/jeff-gibbard-what-makes-a-lovable-leader This episode is being republished for archival purposes. Copyright is held by the podcast producer. If you are the copyright holder and would like this archival copy removed, please contact me.

"Superhero" Jeff Gibbard wants to make the World a better place | The Answer is Yes

Oct 14, 2022 • 00:40:01

40 min Original Episode: https://www.spreaker.com/user/theanswerisyes/jeff-gibbard-publish This episode is being republished for archival purposes. Copyright is held by the podcast producer. If you are the copyright holder and would like this archival copy removed, please contact me.

Lovable Leadership With Jeff Gibbard | Leadership Without Losing Your Soul

Sep 23, 2022 •

58 min Original Episode: https://letsgrowleaders.com/2022/09/23/loveable-leadership-with-jeff-gibbard This episode is being republished for archival purposes. Copyright is held by the podcast producer. If you are the copyright holder and would like

SPEAK EASY LOVABLE LEADER | Thrive LOUD with Lou Diamond

Sep 13, 2022 • 00:32:29

32 min Original Episode: https://www.thriveloud.com/podcast-collection/811-jeff-gibbard This episode is being republished for archival purposes. Copyright is held by the podcast producer. If you are the copyright holder and would like this archival copy removed, please contact me.

What Does a Great Employer-Employee Relationship Look Like? | The Aerospace Executive Podcast

Aug 8, 2022 • 00:37:58

38 min Original Episode: https://aerospaceexecutive.podbean.com/e/what-does-a-great-employer-employee-relationship-look-like/ This episode is being republished for archival purposes. Copyright is held by the podcast producer. If you are the copyright holder and would like this archival copy removed, please contact me.

Myths About ADHD and Productivity | Overcoming Distractions-Thriving with ADHD, ADD

Jul 18, 2022 • 00:45:09

45 min Original Episode: https://overcomingdistractions.com/ep-146-myths-about-adhd-and-productivity/ This episode is being republished for archival purposes. Copyright is held by the podcast producer. If you are the copyright holder and would like this archival copy removed, please contact me.

Building Great Teams By Being a Lovable Leader with Jeff Gibbard | Aim to Win Podcast

Jul 11, 2022 •

28 min Original Episode: https://aimtowinllc.com/building-teams-with-jeff-gibbard/ This episode is being republished for archival purposes. Copyright is held by the podcast producer. If you are the copyright holder and would like this archival copy

How to Become a Superhero with Jeff Gibbard | Nonprofit Architect Podcast

Jul 5, 2022 •

54 min Original Episode: https://nonprofitarchitect.libsyn.com/how-to-become-a-superhero-with-jeff-gibbard This episode is being republished for archival purposes. Copyright is held by the podcast producer. If you are the copyright holder and would